Easy To Install Aluminum Cheap Portable Stage For Events Stage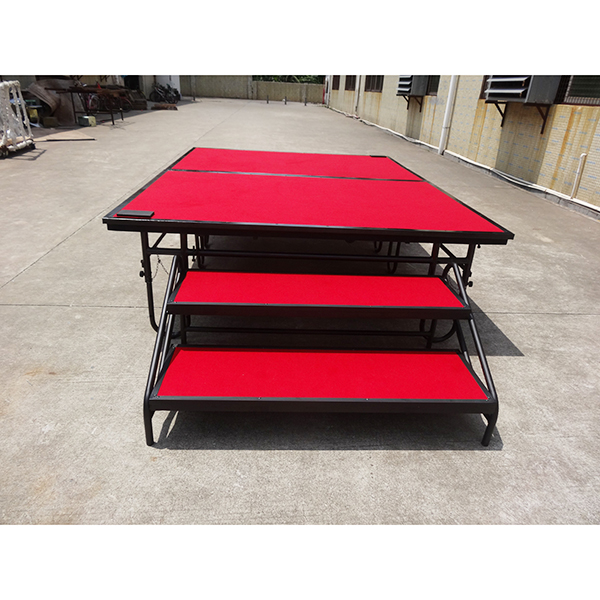 Click to see larger image
Click left or right to switch pictures
Item name
Portable Folding stage concert stage
Dimension
4'x8' (122cm x 244cm) and 6'x8' (183cm x 244cm)
Height range
40cm-60cm , 60cm-80cm
Raw materail
30mm or 18mm High density plywood and 6063-T6 aluminum alloy
Thickness of platform
18mm/30mm
Carpet Color
Black, gray,Red
Platform type
Carpet finish
Certification
CE/SGS/TUV/ISO9001
Transport & storage
Flight cases/handle trolley/standard cartons
Advantage
Durable and easy to assemble
Max load capacity
750KG/SQM
Application
Events performances,party show,concert ,exhibiton and convention,hotel,
catwalk show etc.


The ST series stage system offers the superior advantages of a mobile folding stage.
The dual height model features the added simplicity and speed of built in height adjustability.
The height model has a variety of height combinations with 16inch to 24inch,
24inch to 32inch choices.
height models are available in 4'x8' and 6'x8' deck sizes.

Each section of the Mobile Folding Stage rolls freely on its own 4 built-in wheels to wherever it's needed. No heavy sections to lift and carry,
and no deck or frame trucks to slow you down.

Each section of the mobile folding stage is designed to be handled by one person,
so cost savings in labor and set-up times are substantial. Since each stage unit is self-contained,
there is no need for bulky deck or frame storage trucks.
This unique feature not only saves time and money, but also valuable storage space.

The larger 6'x8' stage units yield more square footage, so you purchase fewer units than with the
traditional 4'X8' sized decks.
Fewer pieces to move and store make this option your best long-term
investment plus a significant cost savings is achieved.




ST offers everything necessary for complete, professional staging including a complete line of:

1.Guardrails are a safety must and are required with all ST stages and risers.
Universal guardrails are used with the stage.

2.Stage Step Units

3.ADA (Americans with Disability Act) Ramps

4.Guardrail Covers

5.Stage skirt

6.Corner Deck Sectionsfor curving the configuration of stages and risers.

7.Transport Caddies for moving stage parts and accessories.

8.Add a finished touch with stage drapes